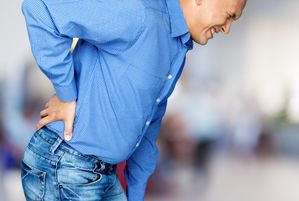 How much time do you spend in front of a computer during the workday? If you're like many Americans, at least seven of the eight hours is spent sitting in a chair and staring at a screen. Investing in an ergonomic chair will do wonders for your spine by easing stress and promoting proper posture. Along with the chair, make sure you get up at least every 45 minutes or so and walk around for a couple of minutes. Its reported that over 50 million Americans suffer from back pain. For many, the chair you're sitting in may be a big part of the cause.
However, there are ways to relieve the pain by making a few simple adjustments in your life.
Get Up
If your job requires you to sit in a chair for extended periods, getting up and walking around will help relieve stress on your spine. It is recommended that anyone sitting for long periods of time get up at least every 45 minutes walk around and simply change positions. Even a few minutes of walking will help relieve the stress placed on the spine.
5 Benefits to Purchasing an Ergonomic Work Chair
1. Reduce Pain
Ergonomic chairs assist in correcting posture, maintaining spinal alignment, and preventing arthritis. Not being hunched over will greatly reduce back pain.
2. Better Health
In a poorly designed chair, it's often normal to slouch or even shift around trying to get comfortable. Poor posture contributes to poor health. Ergonomic chairs are made to correct bad posture and promote greater comfort for longer periods of time.
3.Custom Fit
Unlike a standard office chair, ergonomic work chairs allow you to adjust, not only the height, but the seat depth and arms for a perfect fit.
4. Quality
Ergonomic chairs most often come with a long warranty. Most often, unlike a standard chair, an ergonomic chair will not wear out after a few years. This is true even with constant use.
5. Price
Ergonomic work chairs don't cost as much as you might think. They run from about $200 up to $2000, In many cases, this is not much more than a standard office chair which provides no such benefits.
Chiropractic Care
Suffering from pain in the back is no picnic. Those dealing with chronic back pain may be missing out on some of the great activities life has to offer due to the pain they experience. Making an appointment for chiropractic care will greatly assist in relieving pain as well as assisting in better posture.
If you're one of the millions who suffer back pain because you need to sit for long periods of time, an ergonomic chair, getting up to walk throughout the day, and seeking chiropractic care will help. Speak to your chiropractor today about investing in an ergonomic chair and get back to a pain-free life today. Rush-Henrietta Family Chiropractic, uses natural methods to address the stress and strain our patients place on their backs. We're happy to meet with those who are looking for natural and effective methods to promote their own good health! You're welcome to contact us by phone at 585-321-3200.