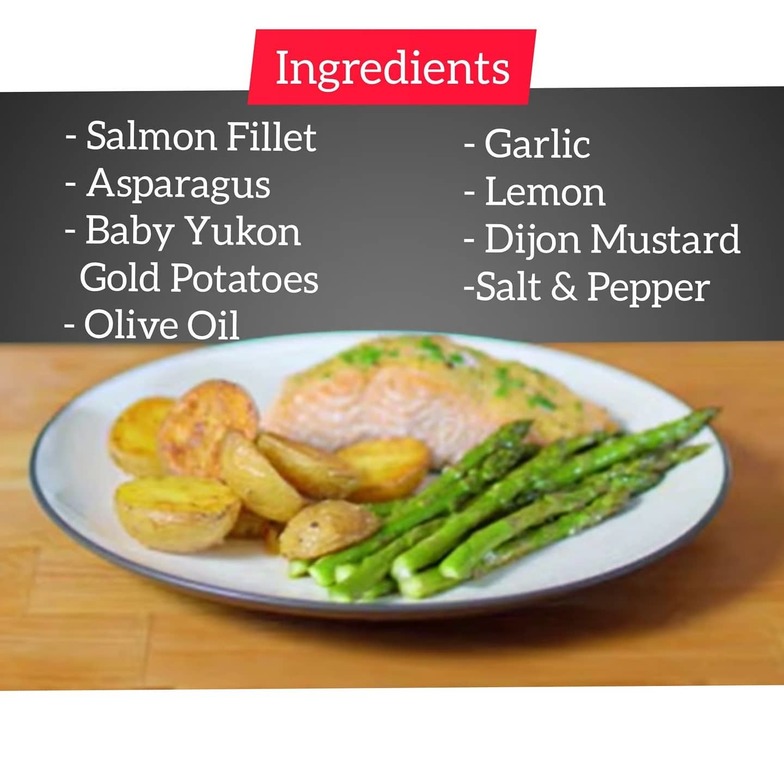 This is the last week of Heart Health Month. In its honor, our first recipe week will be for a heart healthy meal. All month we have been emphasizing the importance of adding fish protein to your diet - this meal does just that! It is a simple recipe that cooks everything on one pan. Here is what you will need:
- Salmon Fillet
- Asparagus
- Baby Yukon Gold Potatoes
- Olive Oil
- Salt and Pepper
- Garlic
- Lemon
- Dijon Mustard
Salmon is a good replacement protein to red meat. It is made up of Omega-3 fatty acids which help with cholesterol and blood pressure. Omega-3 fatty acids are also anti-inflammatory which may help with chronic IBS or Crohn's disease (ailments that many people in Rochester, NY suffer from). Asparagus is an easy way to get many vitamins and minerals without eating a lot of it. The vegetable is packed with Vitamins A, D, E, K. They are also a good source of dietary fiber. Yukon gold potatoes are high in fiber and complex carbohydrates. If you don't like Yukons, you can substitute another starchy vegetable such as yams, sweet potatoes, or carrots.
Recipe:
Place a baking sheet into a 400°F oven and let it heat up for 20 minutes
Cut potatoes in half then mix in a bowl with olive oil, salt, pepper. Place them on the baking sheet flat side down and cook for 25 minutes
In a bowl, mix 1 chopped garlic clove, juice of 1 lemon, 1 teaspoon of Dijon mustard, 1 tbsp olive oil and a sprinkle of salt and pepper
(check salmon for bones, sometimes they miss them in packaging) coat the salmon with the mixture
Cut the heads off the asparagus, coat in olive oil, salt, and pepper
Remove potatoes from oven, mix them up with a spatula and slide them to one side of the pan
Add asparagus and salmon (skin side down) to pan, place back into oven
Cook for 15 minutes or until salmon reaches 125°F
Try out this recipe and let us know what you think! If you are looking for more in depth nutritional advice, feel free to reach out to us here at Rush-Henrietta Family Chiropractic, your local Rochester chiropractor.