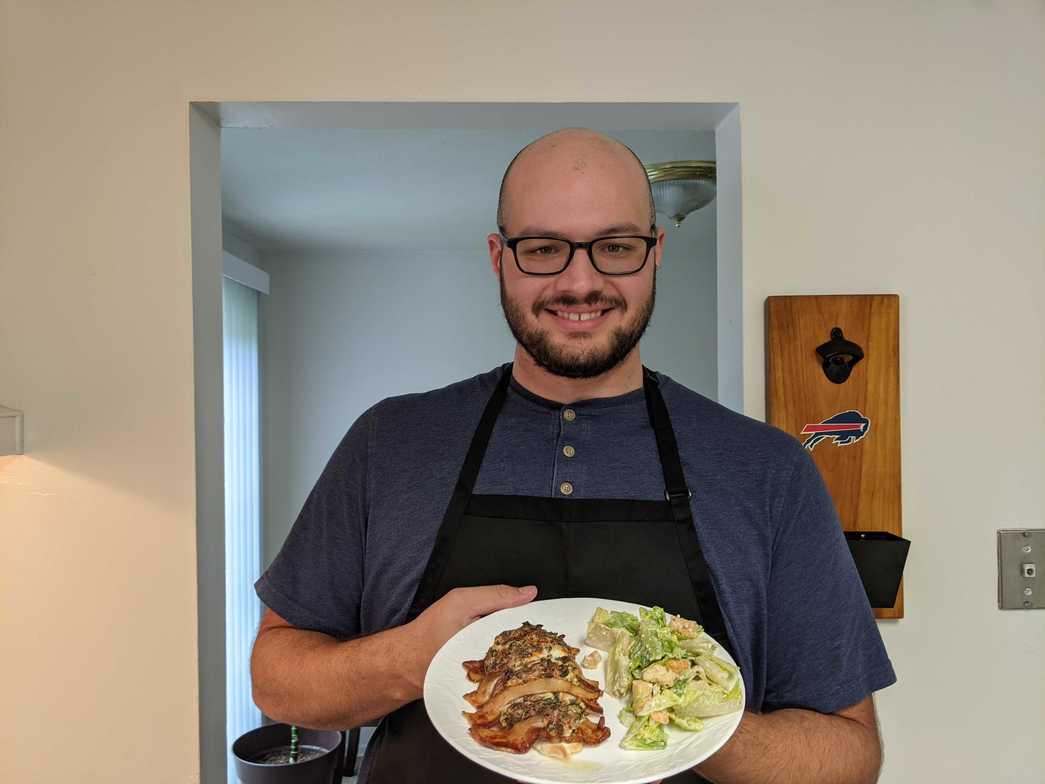 As your Rochester nutritionist, chicken will always be an easy recommendation when trying to increase protein intake. However, just eating an oven baked chicken breast every day can get pretty old pretty quickly. Stuffing the chicken is a simple process and can completely change the flavor profile for the entire meal so you're not eating the same old thing constantly.
This recipe for bacon and spinach stuffed chicken is quick to prepare and can be a base for you to experiment with many different stuffing ingredients. This recipe will feed 4 people but can easily be cut down to whatever number of servings you require.
Ingredients
4 boneless skinless chicken breasts
4 oz softened cream cheese
½ cup of spinach (if frozen, be sure to defrost and drain water)
1 cup mozzarella cheese
4 strips of bacon
2 tbsp of olive oil
Salt, pepper, and crushed red pepper flakes.
Recipe
Preheat the oven to 400 degrees F.
Cut 8 slits width-wise along the chicken breast being sure not to cut all the way through.
Place the chicken on a baking sheet.
Combine cream cheese, spinach and mozzarella in a bowl and mix together. Add salt and pepper to taste. Sprinkle in some red pepper flakes for added spice.
Cut 4 strips of bacon in half (16 total slices)
Alternate filling the chicken slits with the filling mix and a piece of bacon.
Drizzle olive oil on top, bake for 35 minutes until the chicken is fully cooked through and the bacon is crispy.
Overall, the chicken tasted really good. Cutting slits into the chicken to create the pocket for stuffing was a different technique than I expected. When I first read the recipe, I assumed it would be butterfly cutting the chicken and wrapping it around the stuffing. The slits technique allowed some of the stuffing to be on the surface and gave it more of a crisp. If I were to try this recipe again I would cut my bacon strips smaller. The strips were sticking out of the slit too far and flopping over. To prevent this, I folded the strip in half and stuck it in the slit; however, this caused the bacon to be slightly undercooked in the deeper slits. Something else that may work would be to just fill the slits with the filling mix and wrap the whole chicken with bacon.
I like this recipe because it really shows how versatile chicken breast can be. You could use this recipe as a base and just substitute in different fillings to your liking. For instance, you could try replacing the spinach with asparagus or increasing the spice with more red pepper flakes. Find which fillings are your favorite and add them to your rotation of meals.
If you liked this recipe and are interested in learning more about healthy cooking, schedule a free consultation with our nutritionist here at Rush-Henrietta Family Chiropractic. We are always looking to help people incorporate new, healthy, and tasty meals into their existing dietary lifestyle.