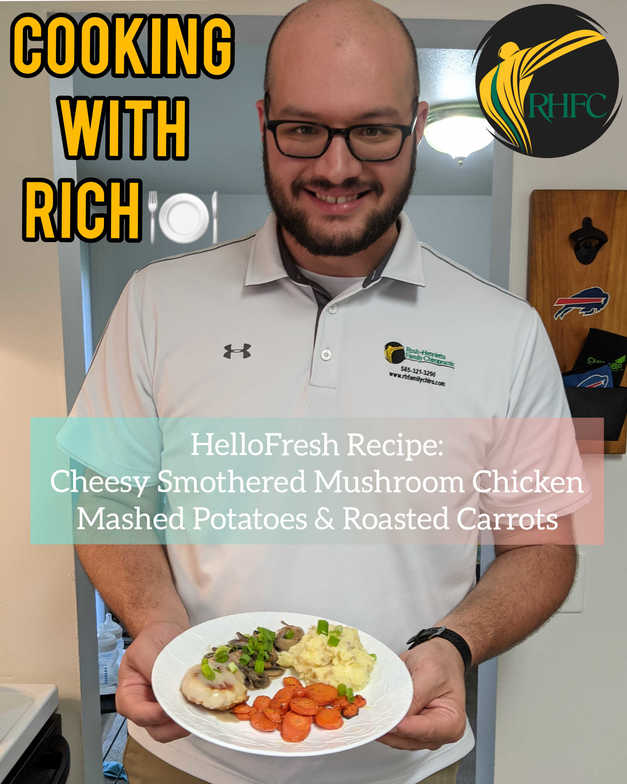 Learning to cook for yourself is an intimidating process. One of the biggest challenges is deciding what to try making. A new trend that has popped up over the last few years is meal delivery services. These programs provide all of the ingredients that have been portioned out for 2-4 people. This week's recipe comes from HelloFresh, a meal delivery company that promises healthy, tasty, and sustainable meals on a budget. The meal ordered was cheesy smothered mushroom chicken with mashed potatoes and roasted carrots. HelloFresh says the preparation for this meal should only take 10 minutes and the total cook time will be 40 minutes.
Ingredients Provided:
Carrots, Mushrooms, Scallions, Yukon gold potatoes, Chicken breast, Sour cream, Chicken stock concentrate, Monterey jack cheese.
Ingredients not provided:
2 tablespoons of butter, Cooking oil, Salt, and Pepper
Recipe:
Preheat the oven to 425 F.
Peel and chop carrots. Place them on a baking sheet and coat with olive oil, salt, and pepper. Put them into the oven and set the timer for 25 minutes.
Dice potatoes into quarters and place into a pot with enough water to cover all potatoes by 2 inches. Bring the pot to a boil and cook for 20 minutes.
Pat chicken dry, heat an oiled pan to med high heat, and cook chicken for 3-5 minutes per side until cooked through.
Strain Potatoes, Add 1 tablespoon of butter and 2 of the sour cream packets, Mash until the desired consistency (add some of the strained potato water back for creamier potatoes)
Heat another oiled pan to med-high heat and toss in mushrooms. Cook for 2 to 4 minutes till soft. Stir in ⅓ cup of water and chicken stock concentrate. Mix and simmer till reduced and thick. Add one tablespoon of butter and 2 packets of sour cream. Mix until homogeneous.
Place chicken in the mushroom pan and cover with monterey jack cheese. Place a lid on the pan and let cheese melt. Plate everything and serve.
This is a great recipe for beginners for multiple reasons: There is great practice for chopping vegetables and is a good way to learn some of the basics to making a sauce. The recipe makes it very difficult to make mistakes that would ruin the meal.
My biggest problem with the recipe is the estimated time HelloFresh is suggesting. For my first attempt, this recipe took me over an hour to prepare and cook. The chicken really needed 6-10 minutes per side to cook to a safe temperature. It is possible that with practice this recipe could be done quicker.
Overall, I would recommend giving HelloFresh a try. The instructions are easy to follow and a perfect portion for 2 people. The recipe sheets are good quality and can easily be kept for future use with store bought ingredients. If you are looking for more recommendations on meal delivery services, or want help planning meals like these into your daily life, schedule a free consultation with our nutritionist in Rochester, NY. Here at Rush-Henrietta Family Chiropractic, our nutrition program helps you create a healthy routine that fits your busy schedule. Give us a call to schedule an appointment.