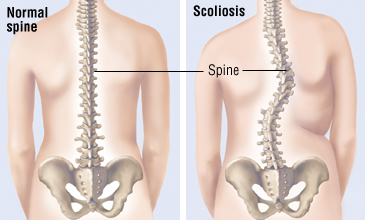 Scoliosis comes from the Greek word "scolios," meaning crooked or curved, and is found in people of all ages as it usually develops during 3 stages of your life. The following are the 3 stages at which scoliosis can develop in your lifetime: congenital scoliosis (0-5 years old), early onset scoliosis (6-12 years old) and adolescent idiopathic scoliosis (13-18 years old). Some might notice the rapid growth spurts that often happen during each stage, this quick growth of the skeleton is usually where scoliosis is most likely to develop. Others might recall being sent to their nurse's office at school to be tested for scoliosis during these stages of their lives. Chiropractors in Rochester, NY often see patients who suffer from back pain, but patients often don't suspect that the curvature of their spine could be the culprit of that pain – checking in with a local chiropractor could help slow the progression of scoliosis!
Checking for Scoliosis
When visiting a Rochester Chiropractor, they will often begin their assessments by having you engage in the same forward bending test your school nurses asked you to do – the "Adams forward bending test." This test will allow a doctor to differentiate normal curvature of the spine with curvature that is associated with scoliosis. For young children showing signs of scoliosis, other diagnostic assessments might be recommended, such as an MRI to monitor any abnormalities that might come with scoliosis in bodies that still have a lot of developing to do. NY Chiropractors have found that approximately 23% of scoliosis patients also are experiencing back pains during their visit to the chiropractor.
Managing Scoliosis with Chiropractic
The primary goal of treatment for patients with scoliosis is managing and slowing the progression of curvature in the spine over time – curve correction even being attainable in some cases with chiropractic manipulation. At your local chiropractic office, Rush-Henrietta Family Chiropractic, a treatment plan for a patient suffering from scoliosis will often include manipulation, adjustment of the spine, and provided exercises to support the spine.
In the most severe cases of scoliosis, especially for patients who are at high risk for curve progression, bracing may provide benefits. Braces have been seen to prevent corrective surgery for patients experiencing rapid progression of spine curvature, although less than 0.3% of all scoliosis cases require surgical correction.
If you or someone you love suffers from scoliosis, or is experiencing back pain that could be related to scoliosis, consider scheduling an appointment with a chiropractor in Rochester, NY. When looking for the best chiropractic professional, look no further than your 2019 Rochester's Choice Chiropractic office. Feel free to call us at 585-321-3200 or via our website to create an individualized treatment plan towards better health. We look forward to helping you schedule your chiropractic appointments.
Article Written by: Amanda DiBenedetto
Thumbnail image: https://www.health.harvard.edu/a_to_z/scoliosis-a-to-z